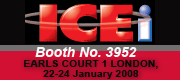 Using industrial PC as the hardware platform of gaming machine like video slot machine, poker, and video lottery terminal has been a trend to full fill the longevity and graphic intensive demand of games. The leading designer and manufacturer of industrial computer, Acrosser wants to present at the world's premier exhibition for gaming and gambling ICE: two new All-in-One gamming platforms and series of fanless embedded systems.


To reduce the system cost, and increase the reliability, an idea PC-based gaming platform should be integrated into a single board with many specific features required on a gaming machine. Acrosser's All-in-One products feature digital I/O with interrupt, timer, intrusion logger, SRAM, security, RNG, ccTalk, and read only RTC. All these off-the-shelf products are designed to meet GLI, BMM and many other gaming regulations. Acrosser also provides ODM services by modifying the standard products to meet the jurisdictions of specific countries.

Acrosser Technologies is opening the opportunities of cooperating with professional gaming machine manufacturer as Acrosser's partner in some countries.

2 more All-in-One gaming platform join Wager series
The two new All-in-One gaming platforms added to Acrosser's Wager series include one AGB (Acrosser Gaming Bus) board with backplane and a JAMMA/72-pin interface gaming board. The AGB model AR-B5600 is All-in-One gaming board designed with Intel's latest mobile chipset GME965 which supports dual and single core mobile processors. It enables the market to implement the game with the most advanced technologies from Intel. The JAMMA interface All-in-One gamming board AR-B5292 is an extended model of the most popular product AR-B5290. This Intel GME915 basis AR-B5292 offers a PCI express video acceleration card slot, Hagiwara bNand support and on board chassis intrusion switches.

All products in Acrosser Wager series are supported by the same AGC (Acrosser Gaming Core) device driver and API for Windows XP, Windows CE and Linux. This outstanding design reduces customer's development time and investment over gaming software. It also enables reusing the software investments on a wide range product line which are based on any Acrosser Wager families.

Fanless Embedded SBC and System
Acrosser fanless Embedded SBCs and systems enable integration of the gaming worlds with high quality and reliable industrial PC technology. PC-based embedded computers are based on Intel and AMD's processor and chipsets: from low cost 486 to high performance dual core processors. The single board computers are designed with various small form factors as EPIC, 3.5" and PC-104 plus.

The embedded system offers perfect integration the right technology for SBC, heat pipe thermal solution, chassis and power supply. Many fanless and dust proof embedded systems, that will make the system even more reliable for gaming applications like linking machines, will be presented at ICE. What is new for example, are the Intel GME965, GM945, GME915, AMD R690E and VIA C7 basis fanless miniature format embedded systems.

Welcome to Acrosser Technologies at booth 3952, ICE EARLS COURT 1 LONDON from 22-24th January 2008, and discover the cutting-edge gaming H/W platform with Acrosser.