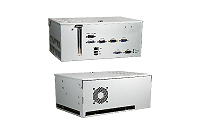 Today ACROSSER Technology announces ACE-B5290/ACE-S5290FL Series products passed the

Comma 6A

Regulation in the Italian Gaming Market.

The ACE-S5290FL Fanless All-in-One Gaming System's design includes many features such as:

• Smart Card Reader
• Door Open Intrusion Logger
• Specially Configured Communication Interfaces Specific to the Comma 6A Regulation

The ACE-S5290FL also includes other Gaming specific features such as:

• JAMMA and 72-Pin Golden Finger Input/Output Interfaces
• Dual Display Capability
• iButton and ProtectU Security Solutions
• ccTalk Device Compatibility
• Hardware Random Number Generator
• Pre-Built API and Driver Sets for Easy Development
• 512KB Battery Backed Non-Volatile SRAM

• Optional reel mechanism controller

All together the ACE-S5290FL is the perfect Logic PC for multiple gaming applications. Using the Intel 915GME Chipset which supports both Pentium M and Celeron M Processors, the ACE-S5290FL system provides the perfect balance of both cost and performance.

Also available is the ACE-S5292FL Fanless Embedded Gaming System which includes all the features of the ACE-S5290FL, but also includes dual VGA video output and a PCIe x16 Slot for Upgradable Graphics Cards.

The ACE-S5290FL and ACE-S5292FL Fanless All-in-One Gaming Systems were designed to be compliant with both the GLI: Gaming Laboratories Inc and BMM regulation bodies. More detailed information, you can visit Acrosser Regulated x86 Gaming Platform Page : http://www.acrosser.com/solutions/GamingCasinoLottery_index_classid_2.html

Or you can find ACROSSER products demonstrated at the ICE/ICEi Shows, booth no. 4442 (27-29 January 2009) in London by IGE :

http://www.ige-exhibition.com/104/1300/index.php

You can contact Acrosser Technology

About Acrosser Technology

Acrosser Technology, founded in 1987, designs and manufactures high-quality embedded computers for a large number of application markets. With the vision To Make Your Embedded Idea a Reality, Acrosser provides innovative Single Board Computers (EPIC, PC/104, 3.5"), Fanless Embedded Systems, Networking Appliances and Panel PC's. Acrosser is the leader in embedded computing for a number of markets including Gaming, Networking Security, Industrial Automation, Vehicle PC's, Digital Signage and Console Servers among others. With a presence in every major continent, Acrosser provides a Global level of service unparalleled in the Industrial PC Industry.

For more information please visit http://www.acrosser.com/ .