Suzo-Happ Group and Acrosser Team Up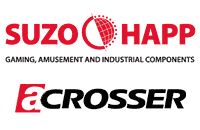 Suzo-Happ Group and Acrosser Team Up
Elk Grove, IL (July 23, 2008)……….Suzo-Happ Group announced today that they have been appointed as a distributor and representative for Acrosser Technology Co., Ltd gaming products in the USA, Canada, Central and South America. Acrosser, established in 1987, is a leading global supplier of industrial computing hardware for the Gaming and Amusement industries.
Acrosser's ACE line of products was developed specifically for the gaming industry to meet all security requirements while also being compliant with GLI, BMM and other regulatory agencies.
"With both standard control boards as well as custom solutions, Acrosser has a proven record of innovation and reliability", said James Brendel, President Worldwide Gaming, Suzo-Happ Group. "Their dedication to quality and outstanding dependability sets them apart. "The Acrosser product line is a natural fit as it works with all the components we currently provide to game manufacturers such as reel mechanisms, bill validators, printers, monitors, push buttons, etc."
"We are happy to be working with the Suzo-Happ Group" said Amit Sharma, Regional Sales Manager, Acrosser Technology Co., Ltd. "The Suzo-Happ Group has a knowledgeable sales team as well as extensive distribution capabilities which will be an asset to our customers and help us provide the best service in sales and support of our products".

With the addition of Acrosser's product line, Suzo-Happ Group continues to expand the products and service they offer to their customers. Visit Suzo-Happ Group at the upcoming G2E Show in Las Vegas November 18, 19, 20 to see a full range of Acrosser products.
About Suzo-Happ Group
The Suzo-Happ Group was formed in 2004 with the merger of Suzo International, headquartered in The Netherlands, and Happ Controls, headquartered in Elk Grove Village, IL. Major additions were made with Advanced Electronic Systems in 2005, Starpoint Electrics in 2006 and ChinaTec in 2007. The combined organization holds a global leadership position in the gaming and amusement parts and accessories market with customers in 80 countries. The company has manufacturing, engineering, distribution and service capabilities with over 650 employees on three continents. More information is available at www.suzohapp.com, www.suzo.com, and www.happ.com