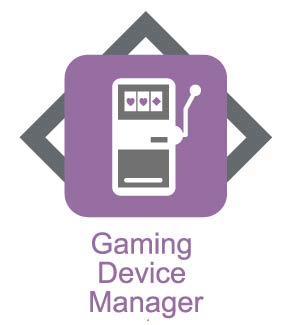 One of the key challenges facing gaming machine designers is interfacing the user application to the physical hardware and other peripheral devices in a system. A gaming machine may include several peripherals such as: coin acceptors, note validators, card readers, hoppers, ticket printers, scanners, lights, switches, reels and alarms. As application development has migrated to become ever more graphic design oriented, application engineers have become less skilled in the languages and protocols used to communicate with these low-level hardware devices.
The emergence of industry norms like GSA's Gaming Device Standard may make life a little easier; but it will likely still take considerable time for compliant devices to become readily available and widely used. Even with widespread adoption of device communication standards, experience shows us that creating reliable machines is not just about communicating with single devices – it's about system management i.e. managing all the hardware devices in the machine in a coherent and robust manner. There's no standard for that! Experience has also shown that a machine's hardware needs to be managed in its entirety to succeed in maintaining the system's continual operation. In an "asynchronous" system like a gaming machine, decisions have to be made about the temporal priority of commands, polling of external devices, as well as running the application. The right software management solution will incorporate fast device servicing, which will likely be on a non real-time operating system like Windows or Linux. In some instances, control is implemented externally on dedicated processors, such as when driving multiple mechanical gaming reels.
In terms of providing a complete management function, it is of major architectural benefit to separate the hardware management from the application. First, this allows device "abstraction," providing the freedom to use a broad range of peripherals from any manufacturer without changing the application. Second, it also allows game applications/platforms to be easily ported to different machines. Designing in a device management (abstraction) layer effectively allows the application to be decoupled from the physical/peripheral hardware.
For the reasons outlined above, Acrosser is now pleased to announce the availability of Acrosser's gaming platforms with direct support for e2c's Gaming Device Manager (GDM) software. The Acrosser gaming platform presents the application developer with a simple and coherent API which takes care of all the complex device management functions; both on the Acrosser gaming board and all the external peripherals. Since the GDM supports all major peripheral manufacturers and device protocols, selecting and adding peripherals is now a simple task. The Acrosser Gaming platform can quickly be combined with all the industry standard peripherals, offering reduced time to market and improved system reliability; as well as the other major benefits of the GDM's device abstraction layer.
Gaming Device Manager Highlights:
˙GDM is a peripheral interfacing and control solution for PC based gaming platforms.
˙GDM allows rapid integration of complex peripherals within any application environment.
˙GDM enables remote management of distributed PC terminals right down to the device level.
˙GDM provides hardware abstraction. This allows application portability and freedom of choice in device selection.
You can contact Acrosser Technology at: