Intel GME965 Core 2 Duo EPIC Embedded Computer Board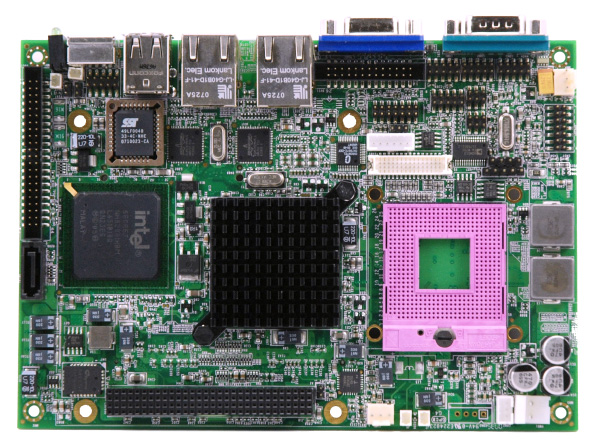 Experienced embedded computer leading designer and manufacturer ACROSSER Technology Co. Ltd providing embedded computing / networking / gaming / gambling solutions recently showcased a high performance embedded computer EPIC board: AR-B5630 based on Intel® GME965 chipset supports Intel® Core Duo / Core 2 Duo processor and high speed memory DDRII 533/667/800 MHz SO-DIMM up to 2GB. AR-B5630 is the most powerful embedded computer board that good for system integrator to fit application projects such game machine, POS/Kiosk, digital security, digital signage.., etc. With Intel® GME965 embedded high speed chipset and Intel® Core 2 Duo CPU support 533/667/800 MHz FSB (Front Side Bus) not only can handle complex multi-task processes and execute several application programs concurrently with admiring performance beyond customer's used experiences.
With Intel GMA X3100 graphics core built in the Intel GME965 chipset support dual display, CRT and LVDS, or DVI (TV out). The great graphic performance fulfilled most application demands save add on display card. The great flexibilities of dual display combinations make ease to gather variety of display devices together what ever new or old or different interfaces but work fine together. AR-B5630 features 4 USB ports (2 onboard and 2 internal), 4 high speed RS-232 (one of them can be set as RS-422/485), dual Giga LAN, 1 x IDE, 1 x SATA, 5.1CH audio, 8 bit GPIO, PS2 KB/MS and one Compact Flash Type II Socket
AR-B5630 is a high performance reliable embedded computer board, with standard industrial EPIC board form factor 115x165 mm, compact but plenty I/Os furnished. The high performance throughput makes AR-B5630 easily be applied in every application such as gaming, gambling, high-end multimedia, POS/POI/Kiosk and Digital Signage, etc.
With Programmable 1~255 seconds watch dog timer, RTC, boot from LAN features make customer applications more reliable and easy to maintain, single DC12V power supply makes installation simplicity.With PCI-104 expansion slot, customer can easily add on expansion card for their various applications.