New Rackmount Fanless Network Appliance with Intel Tolapai Solution
ACROSSER Technology introduces the latest fanless network platforms to its mainstream level. AR-R5100FL 1U 19" Rack mount solutions that have Intel EP80579 integrated processor with Intel QuickAssist Technology.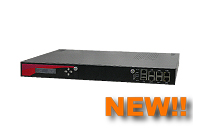 Intel EP80579, also known as Tolapai a Powerful integrated System-On-Chip solution dedicate to Networking appliances which especially require the encryption and decryption function. Built-in algorithm for security function keeps high performance while utilizing less CPU usage. In other words, with integrated accelerating solution in EP80579, a higher performance CPU with higher cost isn't required to fulfill the software calculating.

Furthermore, with ACROSSER core technology the fanless design, AR-R5100FL 1U rackmount system provides excellent stability in noiseless formation and longer the lifetime because of no moving parts. The platform offers two CPU frequency choices, 600MHz / 1.2GHz, memory support up to single –channel 4GB DDR2. By leveraging the PCI Express technology and internal Giga LAN MAC it provides total of six GbE ports. Among the Ethernet ports, integrated a pair of configurable By-Pass function ensure continuous operation during any power interruption. Plus an option module AR-B2004-X4, it provides two additional RJ-45 GbE ports and two GbE SFP ports in AR-R5100FL for you to maximize your bandwidth requirement.

AR-R5100FL offers the best security accelerating function, and power efficiency which are ideally for many internet security applications, such as VPN (Virtual Private Network), Firewall, and Anti-Spam mail server etc.. System integrators can easily develop their application with Intel QuickAssist technology to maximize the performance.
AR-R5100FL features:
˙Fan-less design
˙Intel integrated System-on-Chip EP80579 with Intel QuickAssist technology.
˙2* Memory slots, support up to 4GB single channel DDR2 with ECC function.
˙6* RJ-45 Gigabit Ethernet option up to 8*RJ-45 and 2*SFP GbE.
˙Console re-direction port
˙1 or 2 pair bypass function controlled by Hardware and Software.
˙16 x 2 characters LCD module
AR-R5100FL is available now. For more information, please contact ACROSSER Technology, ACROSSER USA, and ACROSSER worldwide resellers in your local area.