3.5 Embedded SBC with Intel Atom E640 and onboard DDR2 1GB
Acrosser Technology Co. Ltd, global professional industrial and embedded computer provider, announces the new 3.5" SBC, AR-B6051, which carries the Intel Atom E640 and E620. It supports DDR2 memory and capacity is 1GB. It's the onboard design and it will avoid the risk of vibration and shock issue. Based on embedded concept, AR-B6051 has variety IO like 4 x serial port, 4 x USB, 2 x GbE and Mini-PCIe expansion. It offers the CF socket that embedded customers used to use, 1x SATA interface for the customers have large storage capacity request.
There is a Mini-PCIe expansion slot for customer's expansion. As people know there is rapidly increasing request in wireless request, so Acrosser provides customer the option and customer can use the module directly without other carrier board. AR-B6051 also supports the CAN Bus function that is widely used in the industrial applications.
AR-B6051 has completed Acrosser's SBC product line with a 3.5" small form factor. AR-B6051 has two CPU options, AR-B6051E62 and AR-B6051E64. For entry level, you can choose AR-B6051 series. If you wants more CPU computing power and fanless design, you can choose AR-B6050 that is worked by Intel Atom N450 1.6GHz.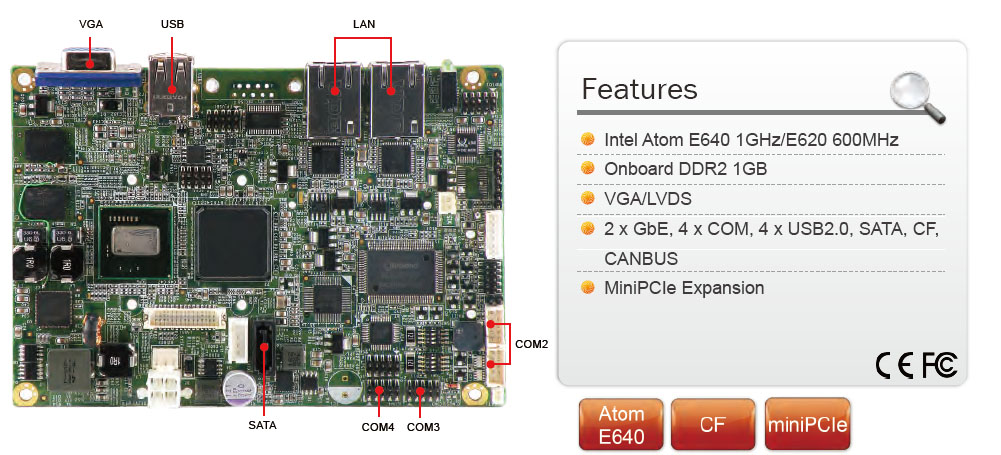 Intel Atom E640 1.0GHz / E620 600MHz

Onboard DDR2 1GB

1 x VGA

1 x LVDS

4 x USB2.0

1 x SATA

1 x CF Type II

4 x COM (3 x RS-232, 1 x RS-232/422/485)

2 x GbE (Intel 82574L)

1 x KB/MS

1 x Mini-PCIe

1 x CAN Bus

8-bit GPIO